*FIRST TIME STUDENTS PLEASE SCROLL AND READ OUR NEW STUDENT SECTION IN FULL.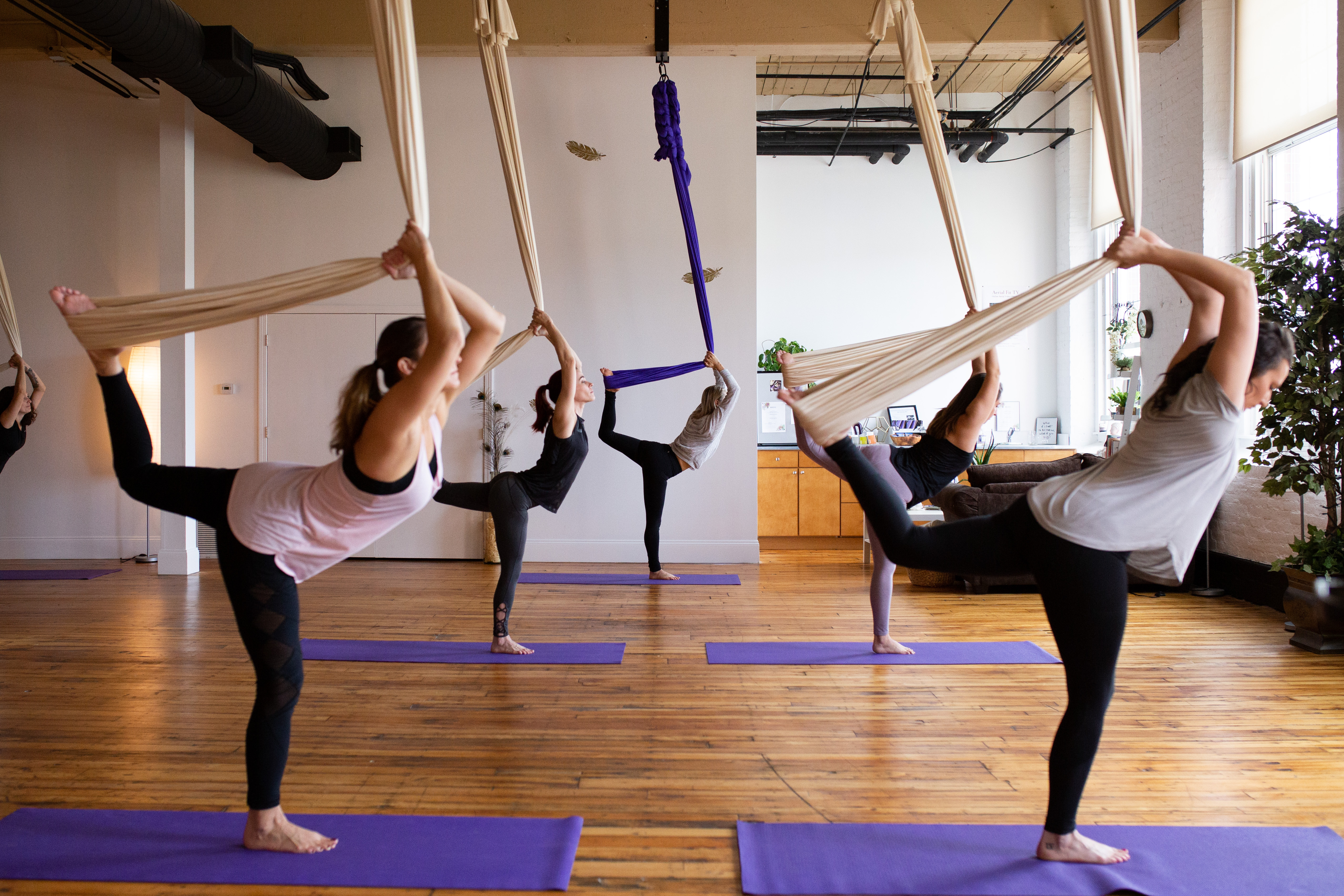 Kama Fitness was created with the idea of community in mind. Our studio is dedicated to creating a feeling of both inner and outer strength, empowerment, and connection. We believe your workouts should be FUN, and not something you have to "get through." Our thousands of clients are a testament to how much fun , beauty, and strength can be achieved through Aerial, Yoga, and a well rounded fitness program. 
We primarily offer aerial fusion classes that increase strength, balance, endurance, and feeling good in your own body. Many of our students enjoy the freedom, creativity, and beauty that is possible with aerial fitness. 
A couple of details about us: 
All of our instructors are trained to spot, support, and guide you through your Aerial Fitness in carefully selected progressions so that you will learn PROPER and SAFE Form in all your movement and technique. 
Because we teach in such an intimate and safe setting with a carefully crafted curriculum, we strongly advise you to reserve your spot online.
At Kama Fitness, it is important for us to ensure that our students are safe. As a new student at Kama we want to set you up for success by starting you at an appropriate level.
What classes to start with: 
You are eligible to start with any of our introduction classes. These include Intro. to Aerial Yoga, Intro. to Aerial Fitness, Intro. to Lyra & Trapeze, Strength & Flexibility, Bungee Fitness, Acro-Tumbling, and Aerial Yoga Restorative. If you have Aerial experience with another studio, please email kama.frontdesk@gmail.com to discuss your abilities and get permission to reserve for a higher level class.
What to wear and what to bring:
Not only is it important to be comfortable in class, we also want you to be protected. We suggest wearing tops that cover your armpits and bottoms that cover the majority of your legs to avoid fabric burns. Please wear flexible workout attire. You may wear socks but it is not required. We do have refreshments available for purchase at the studio, but we encourage you to bring your own water.
Late Cancellation Policy:
At Kama Fitness, we allow one late cancellation free of charge. After your first late cancellation, you will be charged a $15 cancellation fee as this effects our instructors planning and students who have been waitlisted for the class. Please try to cancel your reservation at least 12 hours prior to class starting. By doing this you avoid a fee, our instructors can make adjustments, and a different student can fill in your spot. If you have to cancel last minute due to an emergency, please email kama.frontdesk@gmail.com otherwise you will be charged.
Waitlist:
You are able to reserve a spot on our waitlist for a class that is already full. We encourage you to do this as spots open up in class all the time. If a student drops a class and you are first on the waitlist, you will be bumped into class and notified via email. If you no longer wish or cannot attend the class, you will need to log into Zen Planner and remove yourself. Please check in daily to see if spots open up as multiple can become available.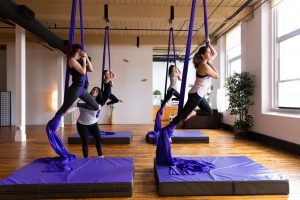 Aerial Yoga & Fitness
Aerial Yoga and Aerial Fitness is a unique workout that challenge the body like never before! Using silk fabric hung in the air, the Lyra hoop, or Trapeze bar you learn to climb, wrap, move, and flow while having fun and building strength and confidence. We offer classes for people of all skill levels!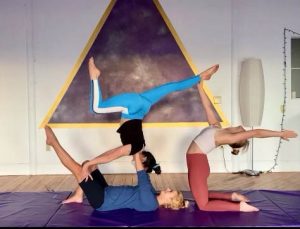 Acro-Tumbling and Strength & Flexibility
We believe everyone should Love their Workouts! To offer a unique blend of classes we have Acro-Tumbling and Strength & Flexibility. Work on hand balancing, tumble passes, partner work, strength, and flexibility. These classes are a great option for those looking for a fun work out and they can help you gain skills and grow stronger for your Aerial classes.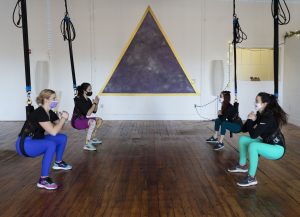 Bungee Fitness
Bungee Fitness is a low impact, high intensity, fun cardio workout! During class you can expect to jump, lung, and move to music! Your instructor will lead you in a few different fun routines incorporating all the movements you learn.
Safety is always first as we help students of all ages discover fun ways of getting fit and enjoying movement in their bodies.