Toggle through our offerings below to learn more. 
**Please note all classes require pre-registration so that everyone is guaranteed their own silk and equipment**
Aerial Yoga
Aerial Yoga Classes & Offerings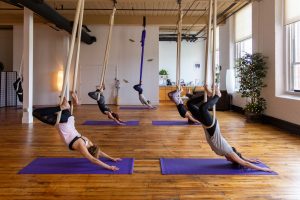 Aerial Yoga Vinyasa Flow
Take your Yoga practice to new heights in the safety of an aerial hammock. Our silks are tested to hold over 2000 pounds of force, and our stainless steel hardware is expertly rigged for optimum movement and safety through yoga poses. Find a fun way to get fit as you use your core, back, arms, and legs to move into each stretch with steadiness and ease. Aerial Yoga increases both strength and flexibility.
All levels and abilities welcome.
Aerial Yoga Hammock Level 1 and Level 2
For the experienced aerial yogi or aerialist, this a a Power Flow class teaching transitions quickly through poses, and introduces more challenging inversions, wraps, and arm balances using the silk hammocks. Classes include conditioning using the aerial hammock, and building up to a sequence by the end of the class. 
It is recommended to have a strong aerial and yoga background to take this class.

Aerial Yoga Candlelight Restorative
Relax and restore with us in our evening flow by candlelight. Stretch, breath, and enjoy the calming ambiance of this wonderful class.
All levels and abilities welcome. 
An introductory video to Aerial Yoga can be viewed here on 
YouTube.
Aerial Fitness
Aerial Fitness Classes & Offerings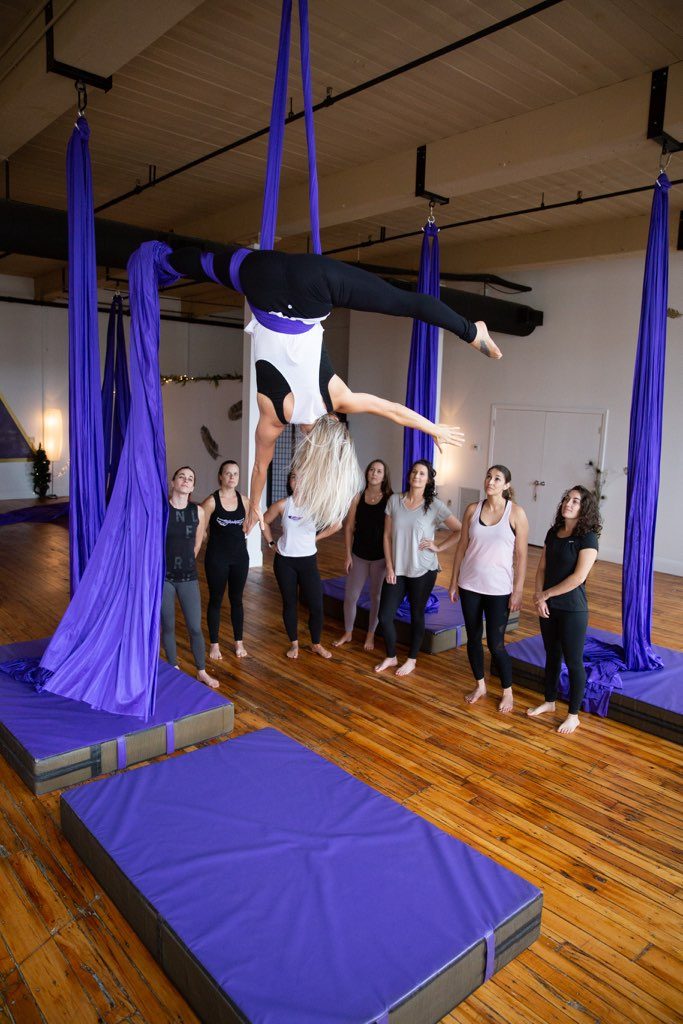 Intro to Aerial Fitness
Adult Aerial Fitness is a great way to take your fitness to new heights. This class is perfect for the absolute beginner looking to get their feet off the ground and their head upside down. Basic moves and conditioning will be taught in this class, using the split silks hung 15 feet from the ground. It is recommended to take this class 2-3 times before moving on to Level 1. If you cannot make Intro to Aerial, please Sign Up for Open Levels or Level 1. 
Level 1 
Utilizing the split silks fabric with our 15 foot high mill building ceilings, explore climbs and basic foot lock moves, as well as conditioning. Working on flexibility and building strength, your body will be challenged in a whole new way that is both  fun and beautiful.It is preferred, but not required, to take Intro to Aerial before taking Level 1. 
Level 2
Instructor permission required for this class – as students master the foundational skills of Level 1.  You must be able to do straddle ups and hip keys in the air. This class will begin to further increase strength in the air with foot locks, inversions, complex climbs,  and body wraps. 
Level 3- Aerial Dance
This is for Level 3 Aerial Fitness students only. Students will learn to master the art of flows, transitions, and connecting movements with musicality in a safe and supportive atmosphere. This class encourages creativity to move in your own choreographed routines.
Instructor permission required for this class – Students must be able to perform foot locks, hip keys, and inversions in the air with clean form (no bent knees or touching the silks with your feet to invert.) More complex climbs, wraps, and drops will be explored in this class, as well as sequencing these moves together. 
All Levels 
Work on refining your skills and conditioning in this aerial fitness class designed for ALL levels — recommended to have taken AT LEAST ONE AERIAL CLASS to attend this class. We will drill basic skills such as climbs, basic movements, and refine your technique while we condition and strengthen your form. 
Lyra and Trapeze 
All levels welcome. Learn  the fundamentals of aerial dance on the trapeze and Lyra. Students will learn basic moves and work on transitioning between them. We will begin forming them into a sequence, all while gaining strength and having fun!
An introductory Aerial Fitness video by Karlene can be viewed directly on 
YouTube
Fitness & Yoga
Fitness Classes & Offerings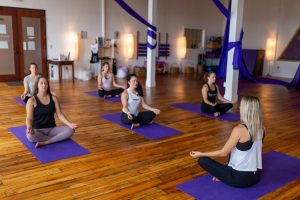 Aerial-Lates : 
Yoga, Pilates, Barre, and Aerial – All in One! 
Using a variety of light weights props and blending elements of Pilates, Barre, Yoga, and Aerial you will receive a full body workout based in small movements and isometric holds designed to fatigue muscles. A strong focus is placed on form, breath and alignment to create a mind/body connection to help "think" into your muscles. A fun, upbeat, moderately paced class appropriate for all levels.
Class format will vary – some classes utilizing the ballet barre for the entire class, others for a portion of the class. All exercises can be modified for all levels.
Aerial Conditioning & Flexiblity 
This class is open to ALL levels. Join us for 30 minutes of HIIT circuit training using kettle bell weights, pull up bars, and your own body weight to get your heart racing and cross train for aerial fitness. The next 30 minutes of this class will focus on increasing flexibility in our hips, splits, shoulders, and back, while our bodies are warmed up and more open to optimize flexibility.
Private Training
Private Training Offerings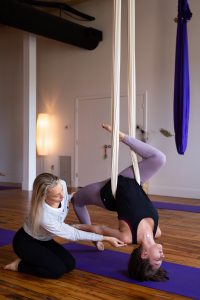 Private Classes
If you desire a more centered and focused class for your own goals, skills and abilities, private classes are excellent for developing further in your own practice.  Must be reserved in advance and can be reserved for single, double, or up to 4 people. To Schedule your private or semi-private lesson, please use our Contact Page or call directly (603) 702- 3737.
Private Parties
Want to have fun flying with your friends? For  groups of 5 or more, The Kama Fitness studio can be rented to host a private get together (Birthday Party, Girls' Night, Bachelorette Party) to explore Aerial Yoga, Aerial Dance, Aerial Pilates/Barre, or any traditional Yoga class . Have a great time getting fit while hanging out with your friends. Kama will have our fun and experienced instructors on hand to provide an enjoyable workout for everyone. Contact Us by phone (603) 702-3737 or Directly Here  and let us know what you're looking for!
$50 non-refundable deposit due upon booking. $200 due at event.
Open Studio
Open Studio Offerings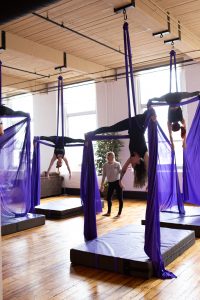 ​Open Studio 
Every Friday evening we invite students to HANG OUT with us. All aerial apparatus are available for Kama Fitness students to practice their skills without formal instruction. Silks, hammock, sling, lyra,  rope, and trapeze will be set up for your play time. Must be a current student of aerial, must sign up in advance online to reserve your spot. $10 Drop In, or FREE with an Auto Pay Membership.
Studio Rental
We now offer studio rentals to anyone who would like open play time on any apparatus. An instructor will be present, but no formal training will be given. For pricing and scheduling, please Email Us.
Self Care
Self Care Offerings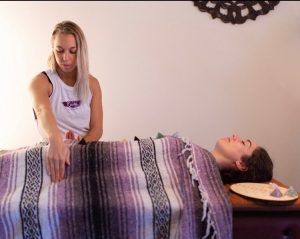 Energy Work and Intuitive Healing
At Kama we believe in balance. Enjoy  private time for yourself and go deeper with Energy Sessions with our Spiritual Counselor and Licensed Therapist, Shasta Winn. 
We also offer Reiki sessions utilizing sound frequencies, essential oils, chakra integration, Access Bars, and the amethyst BioMat. Please contact us for more info and to book your session.