Weekday and Weekend Afternoons
QHHT stands for Quantum Healing Hypnosis Technique, and is the hypnosis technique developed by the late Dolores Cannon. Ms. Cannon is world renowned for her work as a pioneer in the realm of past life regression therapy. Over 40 years and working with thousands of clients all over the world, she developed her technique to help people heal themselves by making the hypnotist the facilitator for reaching the Client's Higher Self. QHHT is a bridge between yourself and your soul, and opens the path to accessing not only lives your soul has been involved with, but also what your life's purpose is, why an illness or injury has been brought about, and how to heal your current and past life trauma. You can have an afternoon session done at the studio to dive deeper into your heart, the biggest questions of your life, and find the connections you've been searching for with this regression hypnosis therapy.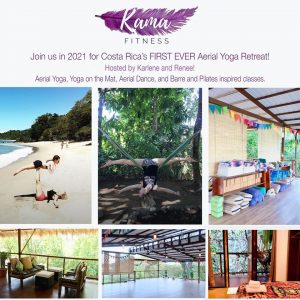 Aerial and Yoga Retreat in Costa Rica, 2021 - SOLD OUT -
March 8, 2021 - March 14, 2021 at Vida Asana School of Yoga
Join our studio for our first international retreat, and Costa Rica's first Aerial Yoga Retreat, at the beautifully renovated Vida Asana in Costa Rica. 
All participants will enjoy 6 nights and 7 days in paradise with nature, 3 organic and locally sourced meals a day, beautiful rooms with private baths, access to yoga and aerial classes daily, excursions to explore and play around the country, as well as private pool and grounds with common areas for Kama Fitness. 
Pricing will vary depending on room selection of Double (Shared) or Single (for yourself, or you and your partner). Payment plans are available. 
There is a $250 deposit due per person in Cash/Check/Venmo to Kama Fitness to secure your spot. Rates will increase after our Early Bird Deadline on July 1, 2020.