First Studio Student Showcase
Saturday, March 21, 2020

7:00pm
A Night of Fearless Flight!Attend our studio's First Ever Student Showcase, to take place on Saturday, March 21, at 7:00pm.
We are so proud of our students, and we want to share their hard work and talent with our loved ones and fellow aerial students in the Kama community.
Support your instructors and fellow aerialists as they exhibit their hard work.
Tickets are $5 online, $10 at the door. Proceeds will be split to go towards purchasing new studio equipment and the Manchester Animal Shelter. Snacks and drinks will also be available at this event. We will also have chairs- so no sitting on the ground!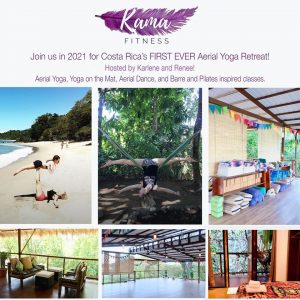 Aerial and Yoga Retreat in Costa Rica, 2021
March 8, 2021 - March 14, 2021 at Vida Asana School of Yoga
Join our studio for our first international retreat, and Costa Rica's first Aerial Yoga Retreat, at the beautifully renovated Vida Asana in Costa Rica. 
All participants will enjoy 6 nights and 7 days in paradise with nature, 3 organic and locally sourced meals a day, beautiful rooms with private baths, access to yoga and aerial classes daily, excursions to explore and play around the country, as well as private pool and grounds with common areas for Kama Fitness. 
Pricing will vary depending on room selection of Double (Shared) or Single (for yourself, or you and your partner). Payment plans are available. 
There is a $250 deposit due per person in Cash/Check/Venmo to Kama Fitness to secure your spot. Rates will increase after our Early Bird Deadline on July 1, 2020. 
EARLY BIRD RATE (Before July 1, 2020) : $1250 for Doubles Room, $1450 for Singles Room. AFTER JULY 1, 2020: $1400 for Doubles Room, $1600 for Singles. **Rates include your non-refundable $250 deposit.  
Need More Info? –– We are holding an Information Night on the evening of Friday, April 3, at 7:00pm in the studio. Please email us if you cannot attend the meeting, but would like more information : Kama.FrontDesk@gmail.com