We at Kama pride ourselves in having experienced, certified, and insured professional instructors on our staff.
Please read our bios to find out more about each of our backgrounds and specializations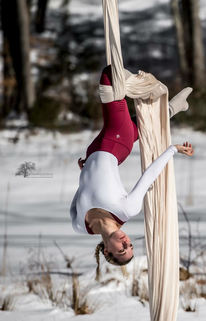 KarleneHead Instructor - Yoga, Fitness, Aerial "Aerial Yoga Girl"
Karlene Linxweiler has over a decade of experience in the fitness and educational world. She previously shared her passion for teaching in the classroom with a Bachelors in Secondary Education. Karlene has an impressive background teaching fitness at Keene State College and the University of New Hampshire, along with giving seminars on women's self defense all over the New Hampshire area. She is fully certified in Personal Training, a Nutrition Specialist, Pilates Instructor, Group Aerobics certified, Kickboxing certified, Women's Self Defense, CPR/AED, a 200-hour registered Yoga Teacher, a third level certified Aerial Silks instructor, and holds a Black Belt in the martial arts. Most recently she has become a YoungLiving Essential Oils Distributor, using oils in her Reiki and Energy Work, as well as in cleansing the silks and equipment at the studio. She has also received her Reiki Level I and Reiki Level II certification, Access Consciousness Bars Practitioner, as well as numerous workshops and certifications in Tai Chi, Qigong, myofascial release, Strala Yoga, Hatha Yoga, Buti Yoga, Thai Yoga, hand balancing, Acro Yoga, and Flexibility. In addition, she has studied dance and gymnastics since childhood. Her passion for movement extends into many different areas to create a program that is fun, unique, and intelligent. She currently is passionate about BUTI Yoga, and is working on her certification through this program. She currently trains all over the Greater Boston area in acrobatics, yoga, Pilates Reformer, ballet and contemporary dance, and the aerial arts, including studying under NECCA and Cirque Body. She has also published one of the first books on the art of Aerial Yoga while fostering a mind-body connection.

As the owner and main instructor for Kama Fitness, Karlene brings her passion for making fitness fun and safe with an encouraging, non-competitive attitude. She recently won the award for "Best Fitness Instructor in New Hampshire" for 2018 from NH Magazine and "Best of NH Fitness Instructor" from the HippoPress for 2019.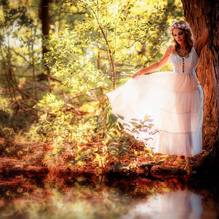 ShastaEnergy Worker, Reiki Master, Acro Yoga Instructor, Head of Shasta Love Program
Shasta Stewart Winn is a counselor, teacher and performer. She is a traditionally trained psychotherapist with additional certifications in spiritual counseling and energy psychology through the Universal Life Monastery and traditional Usui/Tibetan attunement. Shasta facilitates spirit journeys and teaches techniques for mending the mind while balancing the energies of the body to help individuals and groups heal from stress-related issues and traumatic experiences while moving toward reaching life's fullest potential. Her sessions and music are inspired by biopsychological science, energy psychology, shamanic medicine, ancient mysticism, and eastern-meets-western bodywork practices. ​

Shasta completed her clinical training at Wheelock College in Massachusetts and Goddard College in Vermont. She previously served as adjunct faculty for Southern New Hampshire University teaching Biopsychology. After spending years in direct service counseling individuals and families with co-occurring addictions and mental health issues, she closed her private clinical practice to pursue spiritual counseling and performance, incorporating energy medicine, electronic music, and shamanic practices into her continuously growing body of work.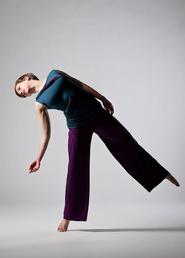 ReneeBarre, Yoga, and Aerial Instructor
Renée is a mover, with a big heart for community and a deep affinity for the arts. With a background in dance, Renée took her first aerial silks class in college and after falling in love and decided she wanted to join the circus. Instead, she received a fellowship to attend grad school and found her way to the Merrimack Valley. After graduating with an M.Ed. in Community Engagement, Renée has found her niche developing affordable housing and leading community pop-up art studios, and has unearthed her love of teaching as a barre, yoga, and creative movement instructor over the past five years. She focuses on creating spaces where people can feel connected, empowered, and creative, roots her yoga practice (and a fair amount of her daily sanity) in a Forrest-style yoga, and is always up for geeking out over anatomy.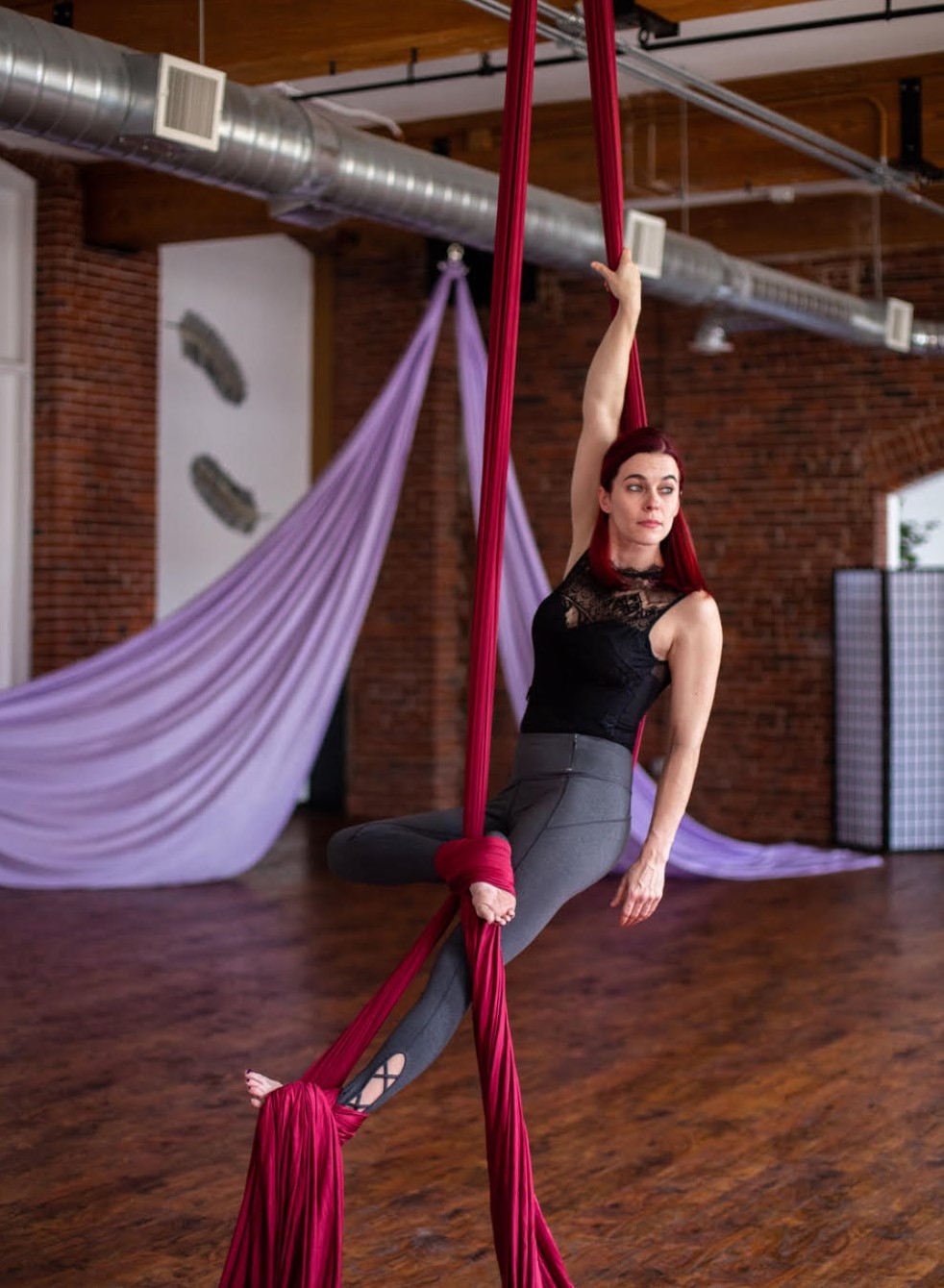 TieshaAerial Hammock Instructor
Tiesha has a passion for energetic and dynamic movement. With a business degree from Boston Unviersity, Tiesha discovered aerial dance and fitness over 5 years ago when Kama was just beginning. A lifelong student of our studio, Tiesha recently became certified in POUND Fitness and has been teaching group fitness for over 2 years. Tiesha is excited to help students make connections in the air, and seeing students light up when they achieve a move once thought impossible. She finds fulfillment in the community here at Kama, and being able to lead students in their growth and being a part of others' aerial escape at the studio.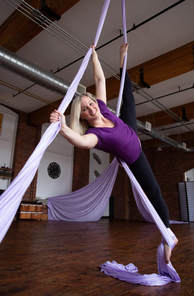 Renee B.Lyra and Trapeze Instructor
Renee has been dancing for nearly her entire life, earning a Bachelor's Degree in Theater and Dance from the University of New Hampshire. She was a member of the UNH Dance Company, performing in ballet, tap, jazz, contemporary and aerial dance. She has over 10 years of teaching experience and a big heart for creative movement. ​Exploring shapes and movement and helping others find their creativity is something she is passionate about and is excited to bring to Kama Fitness.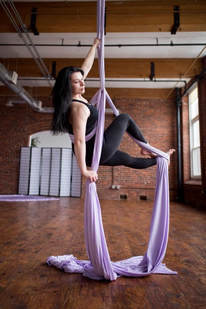 KymAerial Silks Instructor
Kym's fitness journey didn't begin until she was 31 years old and attended her first aerial silks class. Prior to that, she did Muay Thai and Brazilian Jiu Jitsu for a hand full of years, but Aerial was the catalyst for her desire to create a fit lifestyle for herself. She was drawn to the captivating fusion of strength and beauty that is created by the aerialist. Knowing that diet and overall fitness are large components to being successful in aerial, Kym competely transformed her life with nutrition, aerial training, and cross training, and lost 50 pounds. Kym currently keeps herself healthy with weight training, yoga, and barre in addition to her aerial fitness classes. Kym's greatest take away from becoming an aerialist is the confidence and appreciation that she has for what her body is capable of. She hopes her journey can inspire others.

Kym is a world traveler and speaker of Japanese, with a deep love and appreciation for the culture. She earned her Bachelors in Japanese studies with a minor in Economics from Colombia University while studying in Kyoto, Japan.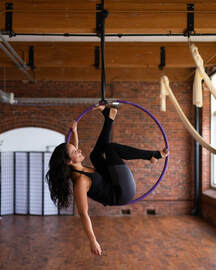 JustineLyra and Trapeze Instructor
Since needing knee surgery as a teenager, Justine has been fascinated with human movement and has spent many years studying the body and its ability to move and heal. She started with obtaining a Bachelor's degree in Kinesiology at UMASS Amherst and followed it up with a Doctorate in Chiropractic.

​Her current practice focuses on athletics and prenatal/post-partum women, and how anyone can get back to doing the activities they love. Along the way she found passion in all sorts of exercise and movement, from strength and conditioning to spinning, and eventually found her way to aerial yoga and fitness. She received her first level certification from the New England Center for Circus Arts in the winter of 2019, and it has given her deeper appreciation of how complex this exercise and art form can be.