We at Kama pride ourselves in having experienced, certified, and insured professional instructors on our staff.
Please read our bios to find out more about each of our backgrounds and specializations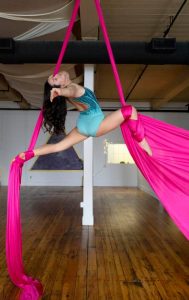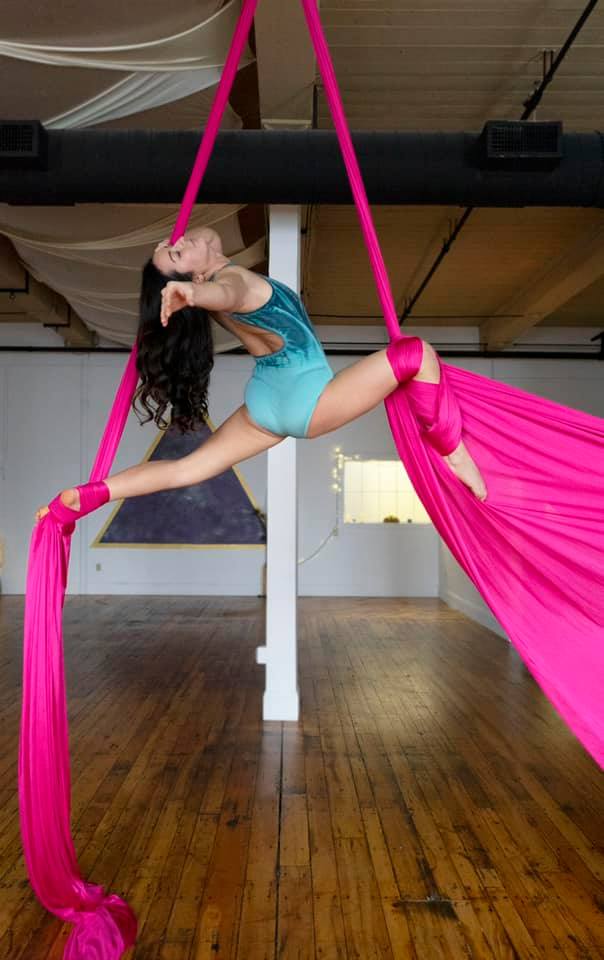 ToniStudio Owner - Aerial, Acro, and Bungee Fitness Instructor
Antonia Schena has always had a passion for movement. She began dance at the age of 5 and has had experience in many styles including: jazz, ballet, tap, contemporary, hip hop, and acro. Another passion of hers was gymnastics. Gymnastics was where she learned discipline and the extent to what her body can do. Growing up, she was always competitive in both dance and gymnastics. It wasn't until age 13 that she was introduced to aerial. After she took her first aerial class Toni immediately found her new passion. To her, aerial was the perfect combination of dance and gymnastics. It tested her strength, flexibility, fluidity, memory, and ability. Toni was part of the Jazz Tap and Aerial Dance Company for 3 years during college at the University of New Hampshire. She was also a Teacher's Assistant in Aerial during her senior year and for a year after graduating. During her time at UNH she also danced and served as captain of the Sisters in Step dance team for 3 years. Toni graduated UNH with a Bachelors in Theater and Dance, and a minor in Deaf and Hard of Hearing Studies. Since graduating in 2019, she has had experience teaching many Aerial classes at UNH and local dance studios, as well as many Acrobatic classes. She most recently has received her Aerial Silks Certification and training through the New England Center for Circus Arts, as well as her Lyra Foundation certification. Toni has also recently been trained in Bungee Fitness and is currently one of the only Bungee Fitness instructors in New Hampshire!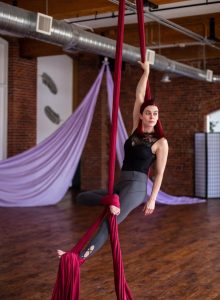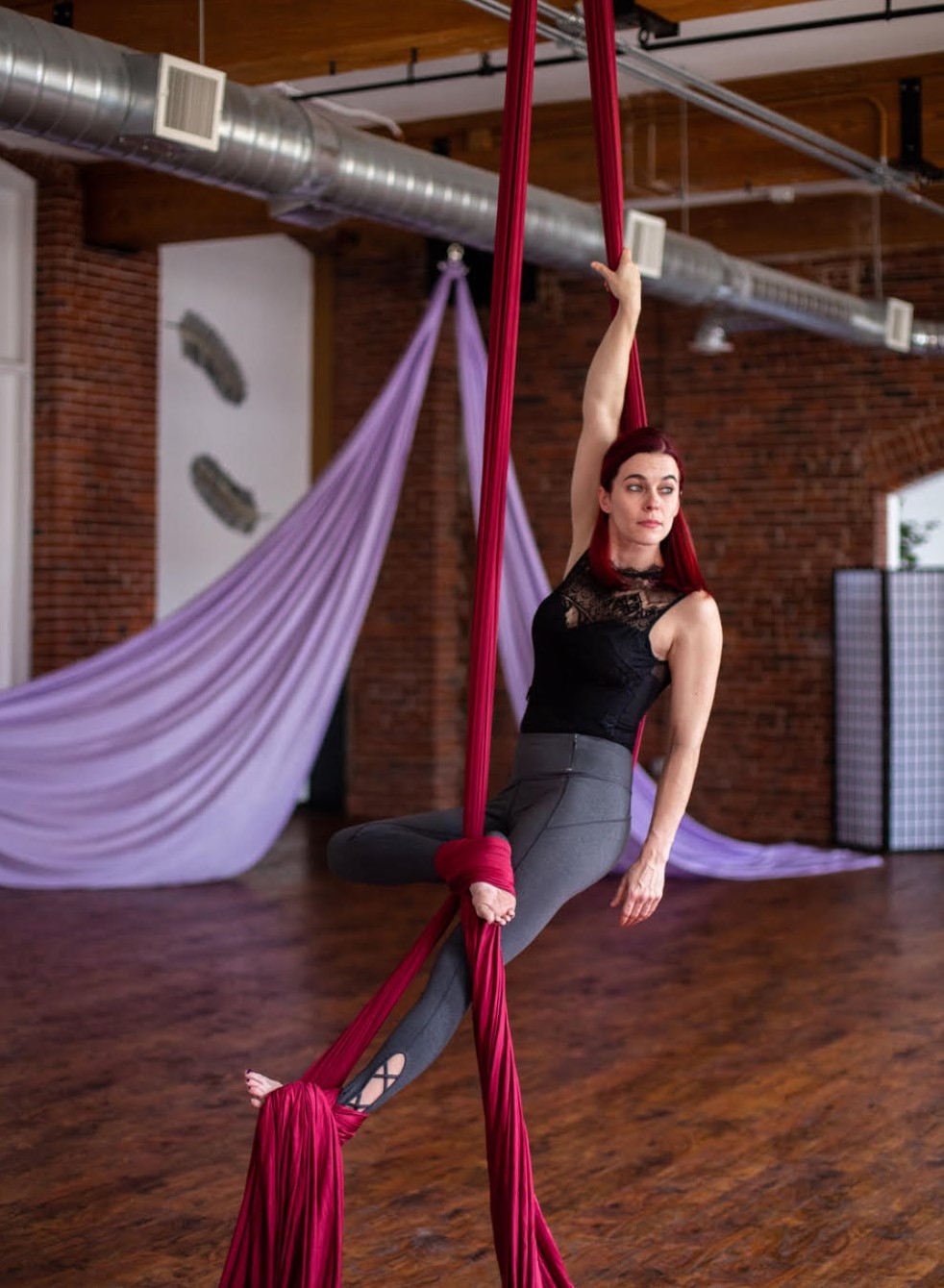 TieshaAerial Hammock Instructor
Tiesha has a passion for energetic and dynamic movement. With a business degree from Boston Unviersity, Tiesha discovered aerial dance and fitness over 5 years ago when Kama was just beginning. A lifelong student of our studio, Tiesha recently became certified in POUND Fitness and has been teaching group fitness for over 2 years. Tiesha is excited to help students make connections in the air, and seeing students light up when they achieve a move once thought impossible. She finds fulfillment in the community here at Kama, and being able to lead students in their growth and being a part of others' aerial escape at the studio.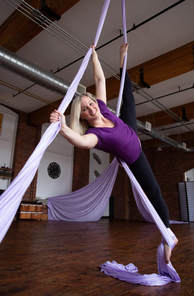 ReneeLyra and Trapeze Instructor
Renee has been dancing for nearly her entire life, earning a Bachelor's Degree in Theater and Dance from the University of New Hampshire. She was a member of the UNH Dance Company, performing in ballet, tap, jazz, contemporary and aerial dance. She has over 10 years of teaching experience and a big heart for creative movement. ​Exploring shapes and movement and helping others find their creativity is something she is passionate about and is excited to bring to Kama Fitness.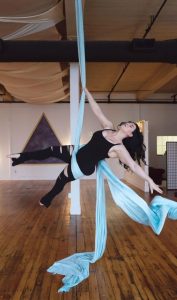 KymAerial Silks Instructor
Kym's fitness journey didn't begin until she was 31 years old and attended her first aerial silks class. Prior to that, she did Muay Thai and Brazilian Jiu Jitsu for a hand full of years, but Aerial was the catalyst for her desire to create a fit lifestyle for herself. She was drawn to the captivating fusion of strength and beauty that is created by the aerialist. Knowing that diet and overall fitness are large components to being successful in aerial, Kym competely transformed her life with nutrition, aerial training, and cross training, and lost 50 pounds. Kym currently keeps herself healthy with weight training, yoga, and barre in addition to her aerial fitness classes. Kym's greatest take away from becoming an aerialist is the confidence and appreciation that she has for what her body is capable of. She hopes her journey can inspire others.

Kym is a world traveler and speaker of Japanese, with a deep love and appreciation for the culture. She earned her Bachelors in Japanese studies with a minor in Economics from Colombia University while studying in Kyoto, Japan.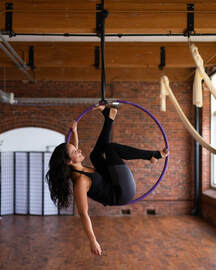 JustineLyra and Trapeze Instructor
Since needing knee surgery as a teenager, Justine has been fascinated with human movement and has spent many years studying the body and its ability to move and heal. She started with obtaining a Bachelor's degree in Kinesiology at UMASS Amherst and followed it up with a Doctorate in Chiropractic.

​Her current practice focuses on athletics and prenatal/post-partum women, and how anyone can get back to doing the activities they love. Along the way she found passion in all sorts of exercise and movement, from strength and conditioning to spinning, and eventually found her way to aerial yoga and fitness. She received her first level certification from the New England Center for Circus Arts in the winter of 2019, and it has given her deeper appreciation of how complex this exercise and art form can be.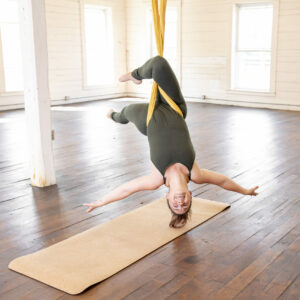 JodiAerial Dance Instructor
Jodi's journey began in January of 2020. She attended one aerial class and her passion was ignited, leading her to become certified as an Aerial Instructor. Following that certification, she enrolled in yoga teacher training to become RYT-500. Her training has been heavily focused on anatomy, technique and bio-mechanics. The training also included yogic philosophy, meditation and breath work. She is a Chromatic level 1 certified teacher, a certified Reiki level 2 practitioner, and a certified Personal Trainer from the National Academy of Sports Medicine. Her thirst for learning continues as she shares her love for aerial and mat yoga with those around her! She believes that movement is medicine, she's thrilled to be bringing Aerial Dance to the Kama Community!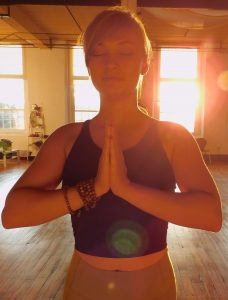 AmyYoga Instructor
Amy has eleven years of experience in the massage therapy field working for herself. She also has been a physical therapist assistant for five years. She has focused her studies on myoneurofascial mobilization and retraining. Amy also specializes in treatment of foot function and gait mechanics. This started from her personal experience of low back pain due to foot instability. Through foot strengthening and whole body stabilization, she successfully reached full recovery. In her physical therapy career, she continues to work towards sharpening her knowledge on the effects that foot dysfunction can have on the rest of the body. As of July 2021, she graduated with her 200 hour yoga teacher training through YogaWorks. This was her avenue to help people in an effective holistic fashion when the medical system has failed them. Yoga is an incredible practice that can improve any type of physical issue. When practiced regularly, it helps increase mobility, stability, strength, relaxation, breathing patterns, tissue oxygenation, mindfulness, digestion, confidence, and so much more. Her yoga style is alignment focused working from the ground up to reduce strain and injuries. Her life's purpose is to teach students which tools to use to help increase their quality of life and vitality! Amy offers group classes and private lessons.